India Rankings 2018: NIRF Announces Best Universities In India
New Delhi: Jawaharlal Nehru University is among the best Universities in the country by NIRF. MHRD has released the list of top universities in the country in an event held at the Vigyan Bhawan, New Delhi. The list of top Universities, ranked by NIRF, includes IISc, Bangalore, Delhi University, Tezpur University among the top ten. IISc Bangalore has emerged as the top University in the country, a second accolade in the ranking systems this year. The University was also ranked top in the overall category as well.
NIRF announces Best Universities In India – Check full university list
The ranking includes separate categories for Medical, Law and Architecture institutes — new additions this year — and All India Institute of Medical Sciences (AIIMS) Delhi, Nalsar University of Law, Hyderabad and Indian Institute of Technology, Kharagpur ranked first respectively in this years ranking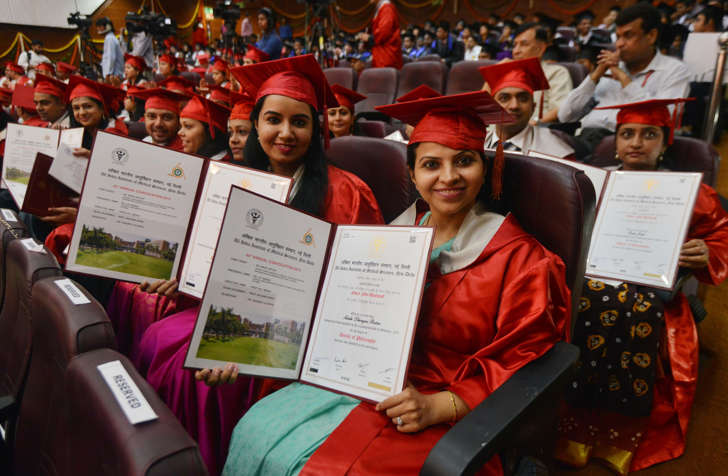 Top 3 medical, law, architecture institutes
The ranking included a separate category for Pharmacy institutes and National Institute of Pharmaceutical Education and Research, Mohali is leading the category in this year's NIRF ranking.
Top 10 pharmacy institutes
This year the rankings were announced in 9 different categories, the prime one being the overall category. The overall category was open for all institutes irrespective of the stream. In the overall category, which was introduced last year, continuing it's streak from last year Indian Institute of Science, Bangalore has again made it to the top of the list.
Top 10 institutes in the Overall Category
NIRF management ranking, Indian Institutes of Management (IIMs) topped the category. IIM Ahmedabad is ranked top in Management.
Top 10 management educational institutes
There have been some new entrants to the list of top colleges this year. While last year there were six Delhi University colleges in the list, this year the number has reduced to five. If there has been a major shuffle in the rankings in any category, it is among the colleges.
Check complete list of colleges
Masters of Business Administration or MBA is one of the most widely pursued Post Graduate degree programme chosen by students in India. As of 2018, a number of new business schools have come up in different parts of the country. Human Resource and Development Minister, Prakash Javadekar on Tuesday announced this year's National Institutional Ranking Framework (NIRF) India Ranking 2018.
Not all are IIMs! Check full NIRF list of best 100 B-schools
The NIRF India Ranking 2018 was released in 9 categories which included Overall, Universities, Engineering, Colleges, Management, Pharmacy, Medical, Architecture, and Law. In overall category IISc Bangalore ranked first while IITs made their presence in major categories like Overall, Universities and Engineering.
Source by msn…
Share: